Custom Made Post-It Notes
Looking to keep track of important info or need new ways to promote your business?

Imagine your company advertised on a product that is posted all over your customer's desk, office and home. That's what you can get with promotional sticky notes. Plus, Post-It notes are often transferred from document to document and seen by people other than the initial recipient. That means more impressions for your brand.

Promotional sticky notes are useful at home and at the office. If you want to provide something more unique than a plain sticky note pad, add ruled lines or a calendar template. Simple imprint additions like this make can make your notepad more useful than others.

If you're targeting a niche market, such as healthcare or schools, look for specialty shaped pads. In addition to traditional rectangles and squares, BLUEDGE offers a variety of fun shapes such as an apple, tooth, foot and pill capsule. If you don't see what you want, ask about specialty die-cut sticky note pads. BLUEDGE will look into options for you to create something in the shape of your logo. You'll have a truly unique promo item sure to grab attention on any desk or counter.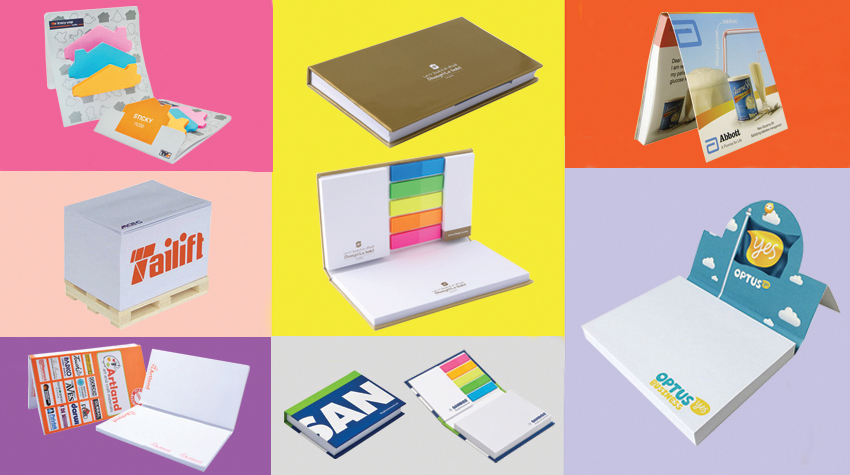 How to customize

1. Listen
Understand your goals, we'll suggest how we can perfectly design and manufacture your product.

2. Artwork Confirmation
Provide Artwork for confirmation

3. Order Confirmation
Make payment

4. Sample
Create a real production sample for confirmation by photo

5. Delivery or Self Collect
Product ready for delivery
Request a Quote
Please fill out the form below to the best of your ability, but don't get hung up if you are not sure about certain details.
No worry, we will assist you!

Send Enquiry
Please fill out this form to get quotation with best price.